It was a big week for the Lakers! The infamous basketball team took out the NBA Championships against Miami Heat 106-93 on Sunday night. The roar of the crowd was unbelievable as LeBron James took hold of the championship trophy. Titled the Most Valuable Player for a fourth time, LeBron James, was well deserving of the win scoring 28 points during the final game.
The Lakers franchise battled through a difficult year beginning with a four-month suspension due to the coronavirus pandemic followed by the heartbreaking passing of teammate and friend, Kobe Bryant. Despite twists and turns The Lakers proved that there is no challenge that can't be overcome as the game was "essentially over" by half time due to their consistant scoring. Known and appreciated for their all-star team of tremendous athletes, it's no wonder fans want to find unique ways to celebrate.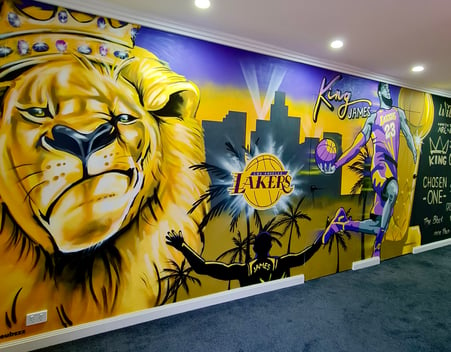 Los Angeles Lakers/LeBron James Mural by Reuben
A ferocious Los Angeles Lakers fan contacted Book An Artist with a request to fill up an empty wall in his Sydney home. He wanted a spectacular mural painting to represent his admiration for his favourite basketball legend: LeBron James (also known as King James).
Made up of the teams' basketball colours: purple and gold, Sydney artist Reuben, designed and painted a mural fit for a king. Details included a lion's head, a Los Angeles skyline, LeBron James' silhouette and dunking pose, and the Lakers team logo. The mural was painted in under a week and just in time for the Lakers big win. We're sure LeBron James would be forever grateful to the dedication of his fans. The massive mural is sure to be a fantastic conversation starter and make a welcome addition to future basketball watch sessions. Love the work, Reuben!