BE PASSIONATE: Self expression, passion, flare, and personal style are all huge facets that create lucrative and professional street art careers. The ability to story tell with every stroke, line, and colour is a relished quality, and this really does come down to the heart that is put into a piece by the artist. Most of us can slap paint on a wall, but if you can passionately and delicately manipulate the paint onto the wall you're already 3 steps ahead.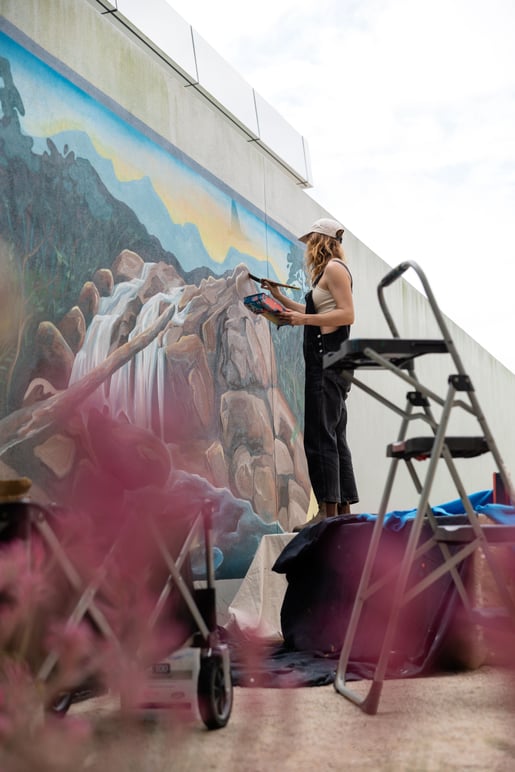 Mural artist OWLET shot by Michael Rhodes during a recent project for Mackay hospital's mental health ward. Famous street artists, such as OWLET is inspired by the Australian landscape and it is directly reflected in her work!
STUDY:
This is 100% a personal preference, but if getting into the theory and practice of the bones of the art world, its history, and business side then partaking in a short course or degree is a great option. Lets look at the possible avenue's:
SKILL SHARE:
Skill Share is an online community where established artists create courses within their field or passion. Skill Share isn't for all industries, but it definitely is for the art and design. The classes are designed for you to follow along in your own time, finish challenges and projects within the courses, and art is a side hustle for you this is an incredibly flexible option to fine tune existing skills and learn others. Whilst Skill Share won't give you accreditations for $99 annually it's very affordable; and it caters to the current global climate of spending a lot of time at home. Worth the investment if you ask us!
What Skill share can help you with:
Handlettering

Adobe, procreate, and other animation software

Illustration

Animation

Mural preparation both digital and analog

Social media and marketing

Accounting and business
SHORT COURSES:
Short courses online or offline are a great way to collect valuable skills and knowledge with most receiving a certification at the end. Research will be your best friend in finding the best short course for you. TAFE is a great place to search, and courses are often government funded meaning your less out of pocket or can pay it back gradually. All states of Australia have a TAFE and most are conforming to be adaptable online! Many universities and art colleges do short courses too, you can put in expressions of interest and be notified when something of your choosing becomes available. If you don't have the commitment for a 4 year degree, short courses are flexible and short term alternative that can get you to the same place!
DIPLOMA, DEGREE AND SO FORTH...
Many street artist began as humble uni kids, or adults (there is NO shame in going back to uni as a mature age student, you're the cool mysterious guy now). Picasso once coined 'you cannot break the rules, until you know them,' very aptly poetic for the art world. Learning the rules, the mediums, and historical art eras could be the window into developing your own personal style. Research will be your friend here too to find the right program for you. Plus uni is an incredible way to meet like-minded and inspiring people. Note # RMIT art and design precinct is currently ranked #1 in Australia.
JOIN A MARKETPLACE
We're not bias at all, but Book An Artist is an incredible platform for artist who want to be a part of a one stop shop for mural and street art needs. Gotta be in it to win it, as THEY say. You're out here working hard to get noticed why not sit back a little and let the clients come to you? Book An Artist make is easy for you to manage, communicate and invoice clients on one platform, get in touch with us HERE to start the street art process.
TIME
Arguably the most important factor in ANY profession ever.
In a world of high demand and high expectations it's easy to see why we are a generation of fact paced and impatient individuals, especially toward ourselves. It's easy to give up when the results aren't what we immediately anticipated. Time and patience will be your closest ally. They say (unsure who they are) that it takes 10'000 hours of training to be a professional athlete at olympic standard. Perseverance, dedication, love, passion teamed with time and energy is a recipe for success, why not treat your painting wrist like the athlete it is?
RESILIENCE:
Becoming comfortable with being vulnerable and open to rejection is one of the most important badges to wear. Another saying unsure who it was said by - you could be the ripest juiciest peach in the world, and there'll still be someone who doesn't like peaches. AND THAT IS OKAY. You're going to carry on being YOU and doing YOUR thing, because no one else can. Putting yourself out there is scary, but worth it - it will give you the competitive advantage.
STICKING TO YOUR GUNS:
Closely related to resilience is sticking to your guns. Sadly there are people out there who don't care if you can afford to put dinner on the table, they just want shit done for cheap. It's easy to feel intimidated and manipulated into offering your services for a fraction of your recommended price just to get some work. I am urging you to not sell yourself short. If this client doesn't respect your cost to price explanation, then let them move on to the next. It might mean you miss out on a job, but are you really missing out? Developing a strategy to deal with these kinds of clients will be useful. Perhaps you have a 3 stage process where you have a template response that you tailor to this client to explain why it costs what it costs:
Eg.
RESPONSE ONE:
Hi_____ Thank you for your interest in my work, this is a livelihood for me, my costings reflect my experience, the time it takes, and my desire to give you the best work possible. The cost of materials _____ is at current industry standard.
RESPONSE TWO: (this is where you can decide if they are worth offering a discount that won't affect your life or work drastically , say by 10-20%. If they aren't skip straight to response three)
HI______Thank you for your response, I value you as a client and would like to offer you ___% discount on the proposed project.
RESPONSE THREE:
Hi______Unfortunately I will be unable to participate in the proposed project for that amount. Thank you again for your interest in my work.
OPTIONAL: If you would like to meet my rate of ______ I'd be more than happy to continue to work with you.
Or cut them off sis, you don't need to argue your worth or get angry trying to prove yourself!
FINAL NOTES:
Be your uniquely inspiring self, and continue to work. Act like you're already killing it even if you aren't, make social media work for YOU, and collaborate wherever you can! Join communities, support your peers, create your own projects and act as though they are legit, have an active and eye catching website, and ask your friends and family fort share the support.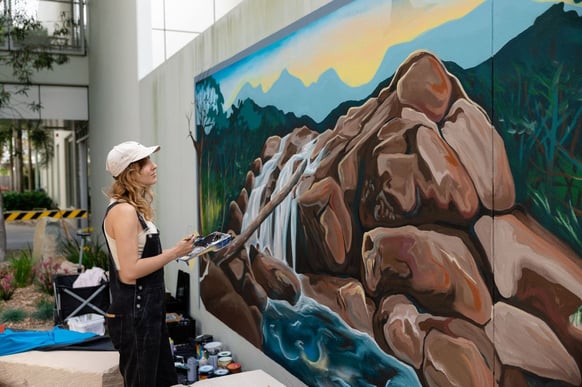 OWLET collaborates with local photographers, friends, and many more creatives to bring her work to life through different mediums, thinking outside the box is a great way to get noticed! (Image: Michale Rhodes)
REMEMBER - Believing in yourself is contagious!